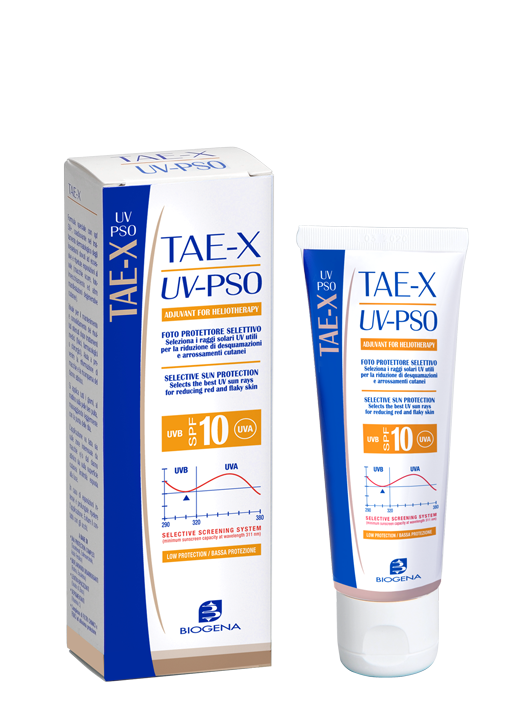 TAE-X UV-PSO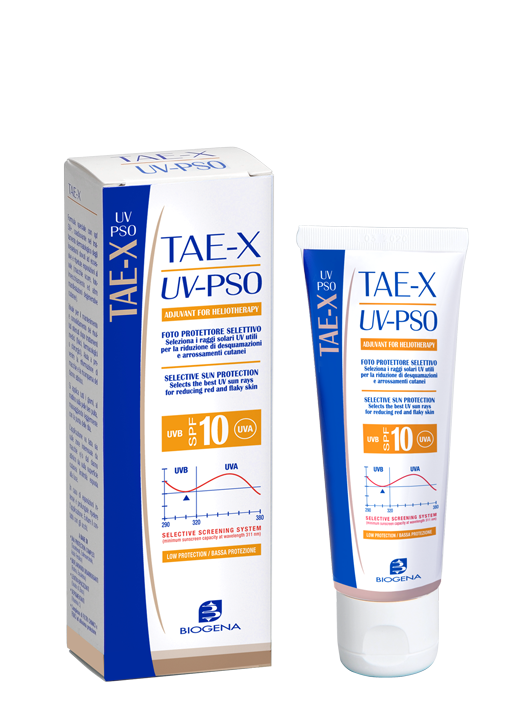 TAE-X UV-PSO is a unique sunscreen designed to protect the skin during heliotherapy.
Tube 100 ml
Cod - 8011674007150
Paraf - 943018895
TAE-X UV-PSO is a unique sunscreen designed to protect the skin during heliotherapy.
Properties
A selective screening system designed to help reducing skin inflammation and scaly skin conditions through helioterapy. An exclusive formula distinctive for its high concentrations of Boswellic Acids, it has excellent sooting and anti-reddening properties and helps to prevent solar erythema.
Composition
It is composed of a selective filtering system which allows the passage of a considerable portion of UVB rays with 311 nm wavelength and at the same time it blocks other wavelengths (UVA and UVB rays which cause erythema and sunburn).
As there is a slight chance of 311nm UVB rays causing sunburn, TAE-X UV-PSO has a strong soothing and preventive action against erythema. Its formula contains high concentrations of boswellic acids, which are extracted from the resin of the exotic Boswellia Serrata plant and have soothing and active properties against sunburns. The effects of these have been further studied to help skin exposed intensively to the sun.
Boswellic acids have the unique effect to reduce cutaneous redness which is always present in psoriatic patches regardless of whether they have been exposed to the sun.
Direction for use
It is advisable to apply TAE-X UV-PSO ten or fifteen minutes before sun exposure – just as you would do with all sun-protection products. Apply a generous amount of product on psoriatic patches, gently massaging for a few minutes to obtain absorption and prevent product remaining on the skin. Always re-apply the product after swimming or sweating heavily, such as after intense physical exercise.
We recommend applying an adequate sunscreen on healthy skin on the basis of the individual skin type (clear vs. dark skin) and sun exposure conditions such as: season, time of day, geographical latitude, etc.
In any case, it is advisable to apply a sunscreen with minimum SPF 30 and high UVA protection factor before the first exposure to the sunlight.
For those who have a low phototype, such as people with fair skin that burns easily, it is always advisable to apply SPF 50+ sun-cream with very high UVA protection factor.
We recommend to see a dermatologist in order to correctly identify your phototype and receive personalised tips for adequate sun protection.
To get the greatest benefits from heliotherapy, the amount of sun exposure should be based on your phototype. Short exposure times will be recommended for people which have fair and sensitive skin while longer exposure times for those who have a darker complexion. A proper heliotherapy programme for psoriasis may be recommended by your dermatologist. Prolonged exposure to the sun using TAE-X UV-PSO is not recommended without the advice of a dermatologist.
Infant's skin, as well as that of adults with sun-sensitivity, must be protected with very high-protection products (SPF 50+ and a high UVA-PF).
TAE-X UV-PSO is neither a drug or a medical treatment for psoriasis; it is a sunscreen designed specifically for psoriasis patients to help them in getting greater benefits from heliotherapy
TAE-X UV-PSO is not recommended as a sun-protection product for everyone, as it does not provide sufficient protection for healthy skin in most people.
You will obtain the greatest benefit by following a personalised heliotherapy programme recommended by your dermatologist.